Kittson County
Lancaster Street Scene 1914 – Courtesy of LakesnWoods.com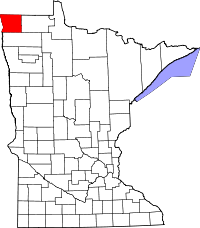 Locations in Kittson County where Poles settled include:

Towns: Lancaster
Unincorporated Communities: Caribou
Townships: Richardville Township

County-Wide Resources
Vital Records and Land Records
The Kittson County Recorder is the custodian of all legal records pertaining to real estate, births, marriages, and deaths.
U.S. Bureau of Land Management
The U.S. Department of Interior's Bureau of Land Management has General Land Office Records where you can pick the state and county, then type a surname. If an ancestor purchased land, you will likely be able to see the document and details about the land and purchase.
Historical Societies and Museums
The Historical Societies and Museums preserve artifacts and historical information related to Kittson County and its people.
General Genealogy Links
The following are websites with general resources and genealogy information about Kittson County:
Maps
Plat maps are helpful in showing who owned the land that year. Click on the area you are interested in until you get to the detail level with names.
PGS-MN Newsletter Articles
(You will need to scroll down to the page indicated to find the article within the newsletter link)
newsletter
page
TItle/Author
Summer 2000
1
The Origin of Polish Settlement in Northwest Minnesota
by John Radzilowski
Fall 2008
1
Poznan Project: Search the Marriage Database
by Kathryn Wilebski Schafer
Winter 2019
4
Paternal Ancestry of Mary Masloski Wilebski
by Kathryn Wilebski Schafer
(the family emigrated from Budy, Russian Poland)
---
Richardville Township
---
Lancaster
General Genealogy Links
Maps
Book
Golden Jubilee '04 – '54: Lancaster, Minnesota
by the Fiftieth Anniversary Committee, 1954
---
Caribou